FOR IMMEDIATE RELEASE
Orleans Residents Urged to Follow COVID-19 Stay Home Order
As a State Emergency exists at this time Orleans Town officials are strongly advising all its citizens to adhere by all guidelines and directives being put forth at this point during the present Public Health Emergency.
As per Governor Holcomb's stay-at-home order effective March 24ththrough April 6th all Orleans residents are asked to only leave their home if they work at an essential business, are getting necessary supplies or must leave for health and safety purposes. Furthermore, all nonessential businesses are being directed to close and for residents to stay home and avoid any unnecessary travel. This preventative measure to suspend in-person contact is considered necessary to avoid spread of COVID-19 during this emergency period.
Town officials have implemented a number of strategies to protect its workforce while still ensuring continuity of operations.  Orleans Clerk Robert F. Henderson said "The Town of Orleans government remains operational to continue to provide essential service to ensure the safety and well-being of residents. However, all town buildings and facilities (including playgrounds, children's play areas, basketball court) are CLOSED at this time."   
Orleans Town Hall / Clerk's office remains CLOSED to the public until April 5th.  The offices are still being staffed during regular business hours to address any concerns via phone 812-865-2539 or email orleanstownhall@netsurfusa.net.   Residents are asked to make upcoming water bill payments via regular mail, phone, on-line (credit cards) and outside drop box.  A convenient link (PayGov) for paying on-line can be found on the town's website www.town.orleans.in.us
---
FOR IMMEDIATE RELEASE
Orleans Police Assisting Residents During COVID-19
In this time of need, if any seniors who live in the Orleans town or anyone else unable to get out to get essential items the Orleans Police Department is here to assist. Town Marshall Richard Dixon said in a statement released this afternoon that our officers will be working through the Governor's Emergency Declaration period and are able to bring items to those individuals. If you need this assistance please call the Orange County Dispatch at (812) 723-2417) and explain the situation and they will dispatch an officer. We are all in this together and as always, the Orleans Police Department is here to protect and serve the citizens of the Orleans Community.
---
FOR IMMEDIATE RELEASE
Citizens Asked To Follow All COVID-19 Guidelines
Orleans Town Leaders are strongly advising its citizens and business owners to adhere by all guidelines and directives being put forth at this point by local, state officials. Governor Eric Holcomb has announced that all Hoosiers are directed to stay home (shelter in place) except when they are at work or for permitted activities, such as taking care of others, obtaining necessary supplies, and for health and safety.
SOCIAL DISTANCING of our selves at this time remains critical. If you are sick STAY HOME period!
Orleans Town Hall/Clerk's Office, and all town owned buildings remain CLOSED to the public and all visitors. The Clerk's Office is being staffed during regular work hours to address any concerns via phone (812-865-2539) internet etc.
Water customers are advised that all payments will be made via regular mail, internet, outside drop box etc. during this time.
All town departments continue to work and functioning from their individual areas.
---
FOR IMMEDIATE RELEASE
"Orleans FIX A LEAK" Week March 16-22
Water leaks are costly and can be even costlier than consumers might expect.  To remind Orleans residents about leaks and the need to fix them, the Orleans Town Offices are observing "Fix a Leak Week" from March 16 through March 22.
"This is an important annual reminder to check your home or business for any leaks, and to repair them as quickly as you can," said Orleans Clerk Treasurer Robert F. Henderson.  "Some leaks are obvious, while others are not.  But as they waste water, they waste your money, too."
All local water customers should perform three tests regularly.
The first check is to make sure all faucets in the home or business are not dripping.  They can be repaired inexpensively.
If a faucet drips twice per second and goes unrepaired for a month, it will waste almost 520 gallons of water.
If the same faucet isn't repaired for a year, the wasted water will add up to more than 6,200 gallons.  (As an example, if a consumer is billed at a rate of $7.00 per 1,000 gallons, such a leak would cost $43.40.  The leak would also increase the consumer's sewer bill if it is calculated based on water usage.)
Second, it's important not to underestimate the amount of water a leaky toilet can waste.  Toilets can waste hundreds of gallons every day.
An easy check is to put a few drops of food coloring in the toilet tank and wait 20 minutes.  If any food coloring shows up in the toilet bowl, there is a leak after the test, the toilet should be flushed right away to keep the food coloring from causing stains.
Lastly, water users should make sure their home or business doesn't have an "invisible" water leak, such as a leak in the underground supply line connecting the utility's main to the building.  This type of leak can be checked by turning off all faucets and appliances that use water, having the Water Company read the meter, not use any water for 30 minutes, then have the Water Department read the meter again.  If it has moved, then there is a leak.
         For more information on local water usage, please call the Orleans Town Hall 812 865 2539 or visit our website at www.town.orleans.in.us
---
FOR IMMEDIATE RELEASE
Summer League Sign Ups Now Underway
The 2020 Orleans Town Summer League Sign-Up is now underway and will continue through March 14th.
Registration forms available from both J & S Sportswear and Orleans Town Offices during regular business hours.
Sign-Up forms have also been distributed to the Orleans Elementary School as well.
Orleans Summer League provides supervised recreation for area youth during the months of April, May and June for ages 3 through 12.
---
FOR IMMEDIATE RELEASE

---
FOR IMMEDIATE RELEASE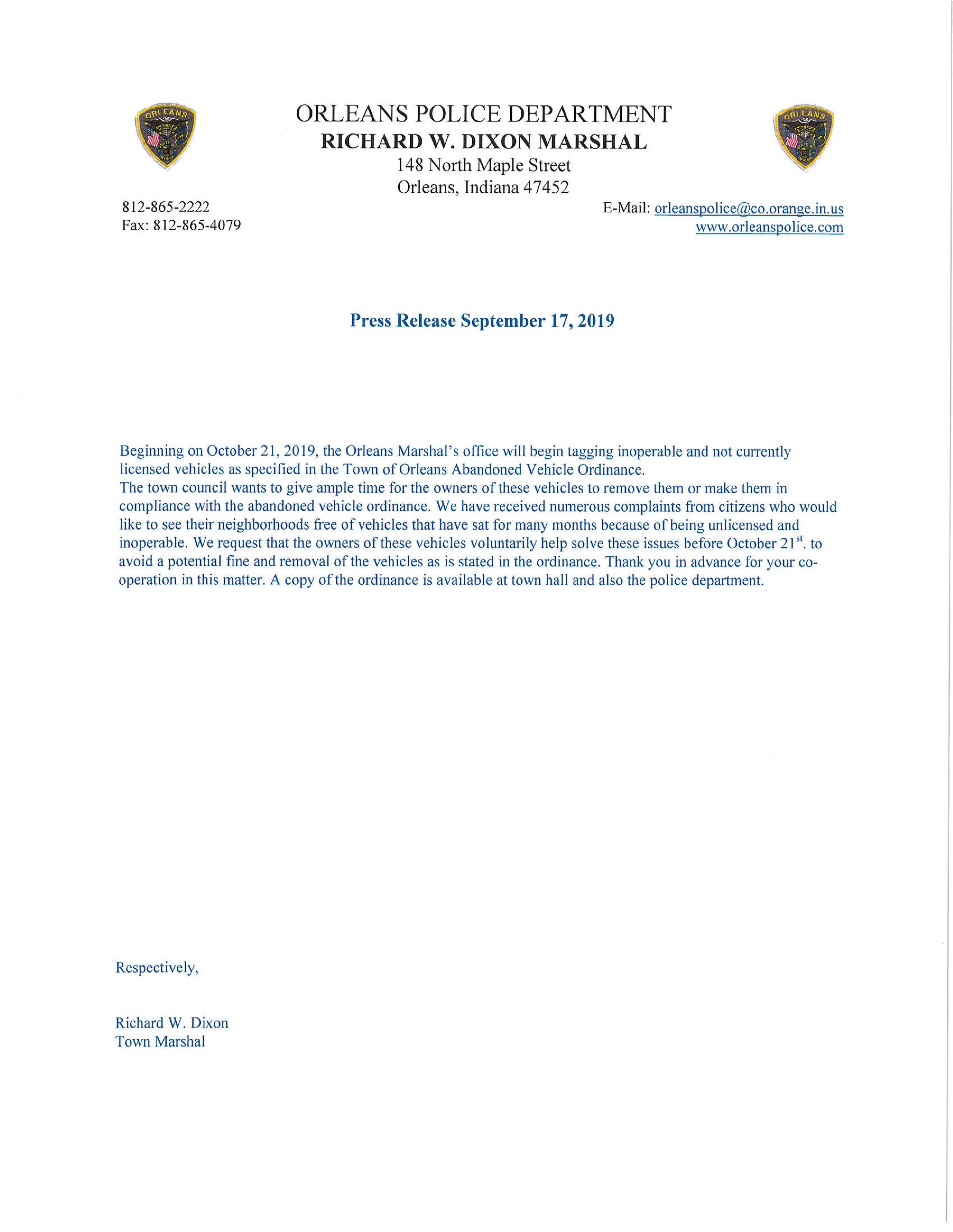 ---
FOR IMMEDIATE RELEASE
Free Prescription Assistance Program
Orleans Town Clerk Robert F. Henderson wishes to remind residents about the Orleans Town Drug Card, that offers free prescription assistance program for the local community.
The card is pre-activated and may be used immediately to save up to 75% on prescription drugs at most regional and national pharmacies.
The FREE card is now available for pick up from the Orleans Town Offices M-F during regular business hours and also be obtained from the Orleans Public Library, Orleans Family Health Care and Orleans Medical Clinic.  There is no paperwork to fill out, and no limits on usage.
Henderson said that some residents to date have saved on brand and generic drugs.  In some cases the program has also covered drugs not covered in any health plans.
For more information on the Rx program contact the Orleans Town Offices 812 865 2539.
---
FOR IMMEDIATE RELEASE
​
Orleans Town Water Again Surpasses All Requirements
​The Town of Orleans Utilities is happy to report that Orleans had excellent drinking water again in 2018. Rigorous testing revealed that our drinking water again surpasses all federal, state and local regulations. Copies of the 2018 Water Quality Report are now available upon request from the Orleans Town Offices located at 161 E. Price Ave., or by simply visiting the town's website.
Water customers are encourage to review their water quality report and contact the Orleans Water Department at (812) 865-2539 between 8:30 a.m. and 4:30 p.m.on Monday thru Friday with any comments or questions regarding the report.
---
FOR IMMEDIATE RELEASE
The Town of Orleans receipt of Indiana Public Employer's Plan (IPEP) 2019 Safety Grant Award.  
Making the award presentation to Orleans Town Clerk  Robert F. Henderson was Eric Ackerman,
IPEP District Representative (second from the far right).  Also on hand for the ceremonies  were
Brett Busick of Busick Insurance (far left) and Assistant Town Supt. Daniel Houchin (far right).
The Indiana Public Employer's Plan, Inc. (IPEP) is excited to announce the Town of
Orleans as a receipt of its 2019 Safety Grant Award.  IPEP is proud to
partner with the Town and Busick Insurance Agency to maximize opportunities
to promote a safe work environment and assist with stretching their risk
management resources.  The grant funds in the amount of $4,000 will be used
to purchase safety equipment or safety training programs that will reduce or
limit workers' compensation exposure.
IPEP was created in 1989 as a risk-sharing pool for public entities, as a
response to the need for public employers to find affordable workers'
compensation coverage. IPEP has grown to provide workers' compensation
claims administration for more than 700 public entities including cities,
towns, counties and schools.
---
Orleans Town Officials recently recognized the members of the OHS 7th Grade Boys Basketball
Team and their coach Kyle Bostic in ceremonies held last Thursday night.  Town Council members
passed a special Resolution in their honor as well as presenting them with the Key to the City.
---
To all Residents of Orleans:
We understand the importance of communicating with you and ensuring that we keep you in the loop regarding events affecting Orleans.  As a result, we are pleased to announce that we are initiating a new notification service called REACH Alert.
This new service will allow us to immediately share important information regarding a number of items, including waterline breaks/boil water advisories, road closures/delays due to construction or accidents, hazmat situations, AMBER/Silver alerts, police actions, and civic events.
As good as this service is, if you don't register, we can't share important information with you.  You decide if you want a text message, voice call, or an email.  Each household can register up to 4 phone numbers and 4 email addresses.  All you need to do is:
1.    Go to www.reachalert.com and click on MY ACCOUNT.
2.    Select CREATE ACCOUNT.
3.    Follow the prompts and enter your preferred contact information.
4.    Network Name: type Orleans (click on our name when it appears).
5.    Select resident or business
6.    Enter your address and click on it when it appears in the drop-down list.
If you opted to receive text alerts, Reach Alert will send a text message to your cell phone immediately upon completion of your registration.  Please enter the 4-digit number on the registration screen and then click the word VALIDATE.  If you do not receive this message, please call Reach Alert.
If you do not have access to a computer or if you experience any difficulty registering, please contact REACH Alert at (877) 307-9313.
If you don't register, you won't receive our messages.
Thank you.
---
FOR IMMEDIATE RELEASE
​
Orleans Town Policy Announced for Yard Waste Pickup
​Orleans Town officials have announced a slightly revised policy in regards to residential yard waste pick up.   Street Department employees will continue curbside yard waste pick up for the town's citizens as a courtesy in keeping the Orleans community clean and beautiful.  The town has designated each Tuesday of the month as yard waste collection day, with the exception during said week a holiday falls and the town offices is closed. Pickup will resume the next full week of business.
The Town Crew will collect yard waste (grass clippings, small twigs, garden waste, shrubbery trimmings etc.)  which is placed at curb provided they are marked container of sorts that does not weigh more than 50 pounds.
Small tree limbs, branches will be collected at curbside if they are reasonably stacked with the base pointing toward the street and only if they have been cut into four foot lengths and not larger than 3 " in diameter.
Larger tree limbs, tree stumps and tree trunks will NOT be collected by the street employees.  Residents may take those type of items anytime to the town lake area and placed on the brush pile located there.
The Town Superintendent  will have the final say on what is allowed to be collected.
The Orleans Town officials reserves the right to change this policy upon extraordinary situations, such as severe storm damage.
Limbs may be dropped off at the town lake anytime. NO treated or painted lumber allowed.
For more information or to schedule a pick up residents may contact the Orleans Town Offices during regular business hours M-F 812 865 2539 ; email orleansstreet@netsurfusa.net
---
FOR IMMEDIATE RELEASE
​
Town of Orleans expands payment options
​Pay GOV LLC (www.paygov.us) has announced that Orleans citizens are now able to pay utility payments by credit or debit card at the Utility office, over the Internet or via 24/7 LIVE operators at 1-866-480-8552. The Town of Orleans is the latest Indiana municipality to offer electronic payments.
Orleans town officials  are familiar with the financial struggles faced by many residents. In order to remain sustainable it is vital that every avenue be explored to limit municipal costs while increasing revenue collection. The Town is continually reviewing expenditures and cost savings initiatives to better service their citizens.
Clerk-Treasurer Robert F. Henderson said "We have been seeking out the best options regarding electronic payment. Many of the solutions found were cost prohibitive," explained Henderson "Pay GOV was chosen after consulting other Indiana municipalities. They have a superior reputation for customer service."
PayGOV.US, a leading provider of electronic payment options based in Indianapolis, Indiana and 2009 Indiana Companies to Watch Award Winner, has similar agreements with government entities and utilities in over 38 states.
---
FOR IMMEDIATE RELEASE
​
Orleans Water Department Reminder to Residents Use Care when Mowing Yard
​The Orleans Water Dept. is reminding residents to please use care when mowing their yards in not to run over and potentially damage their water meter lid or other attached parts.  The town's 900 some water meters and radio unit for the meter itself are all electronic now and quite costly.  A number of MXUs have been damaged by lawnmowers and residents may be held responsible for any damaged parts.
Caution should be used whenever mowing as not to hit or run over the top of the water meter lid. Questions may be addressed to Orleans Town Offices M-F during regular business hours.
---
FOR IMMEDIATE RELEASE
​
Orleans Town Square Park Summertime Use Reminders
​As summer officially gets underway and many more people are using the historic Orleans Town Square Park (Congress Square) the Orleans Police Department would like to remind park patrons to be courteous to other park patrons and respect the park grounds by putting trash and litter in its proper place by using one of the many trash receptacles located throughout the park. The overall goal is making sure the park area is a clean, safe & positive environment for everyone's enjoyment.   Park goers are  reminded that the new veterans memorial honors those who have served our country and is a center piece of the park worthy of respect.  The Orleans Police Department would also like to remind park goers that bicycles, skateboards, inline skates and scooters are prohibited inside the park grounds. Bike racks are available on both the north and south sides of the park for our biking friends to leave their bikes and be able to walk into the park area. Parents are reminded that young children should not be sent to the park alone. Children should not play or swim in the fountain due to the risk of electrocution and other health and safety issues.  Orleans town ordinance 2001-18 contains additional rules for the safety of park goers.  A copy of the complete ordinance can be obtained from the Orleans Town Hall or the Orleans Police Department web site, www.orleanspolice.com and clicking on the Local Ordinance tab.  The Orleans Town Square Park and Welcome Center, located on the north side of the town square is under 24 hour video surveillance.
---
FOR IMMEDIATE RELEASE
​
Orleans Summer League Provides Recreation For Youth
​Orleans Summer League provides supervised recreation for area youth ages 3-12 during the months of April, May and June.  A registration form is required from all participants to participate in the summer recreation program. Contact Brent Brown, 812-653-9732;   OrleansSummerLeague@gmail.com
---
FOR IMMEDIATE RELEASE
​
Town Stepping Up Efforts On Unkempt Properties In Town
​Orleans Town officials continue to receive complaints about local property owners who have not cut their grass and weeds, as well numerous as complaints on several unkempt areas around town.
Residents are reminded once again that lawns and lots in town must be kept mowed, and trash items and other debris picked up. Residents are urged to refrain from blowing grass clippings into the streets and roadways, as this practice prohibited by ordinance, clogs the storm drains and contributes to the town's overall flooding problems during periods of heavy rainfall.
Several residents have been sent notices and those not complying will be turned over to the town attorney. If property owners do not clean up their properties, town employees can do the work and owners be direct billed for it.
The town contracts services of Ron Taylor to spray for mosquitoes and is asking residents to continue to assist in those efforts for general health & safety by keeping all yards and lots mowed off, any brush type items removed, and any type of standing water removed. Old tires should be discarded and rain gutters & down spouts should be checked & cleaned regularly to allow water to flow freely.
---
FOR IMMEDIATE RELEASE
​
Orleans residents reminded of dog and cat laws
​The Orleans Police Department has received numerous complaints of dogs and cats running loose. The Orleans Street Department picks up dogs and cats found running at large and transports the animals to Orange Co Humane Society. Citizens experiencing problems with stray animals can contact the Orleans Town Garage at 812-865-3207 or by email: orleansstreet@netsurfusa.net.
The Orleans Police Department would like to encourage all dog and cat owners to be responsible owners and keep their dogs and cats confined to their property.